Small Space Solutions: Maximizing Storage with Sideboard Buffets
Date Posted:11 October 2023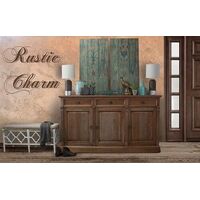 If you live in a small space, you know how challenging it can be to find enough storage for your belongings. You may have to get creative and use every inch of your available space, including the narrow areas that are often overlooked. One way to make the most of these spaces is to use narrow sideboard buffets. These are long, thin, and versatile pieces of furniture that can provide extra storage and style for your dining room, kitchen, living room, or entryway. In this post, we will show you some of the benefits of using narrow sideboard buffets and how to choose the best one for your needs.
Benefits of Using Narrow Sideboard Buffets
Narrow sideboard buffets are not only functional, but also aesthetically pleasing. Here are some of the benefits of using them in your small space:
They can fit in tight spaces that other furniture cannot, such as behind a sofa, along a wall, or under a window.

They can store a variety of items, such as tableware, linens, books, magazines, electronics, or decorative objects.

They can serve as a surface for displaying your favourite decor items, such as lamps, vases, plants, or photos.

They can add character and charm to your space with their design and finish. You can choose from modern and traditional styles with various colours and materials.

They can enhance the flow and harmony of your space by creating a visual separation between different areas or functions.
How to Choose the Best Sideboard Buffet for Your Space
When shopping for a sideboard buffet, there are some factors that you should consider to ensure that you get the best one for your space. Here are some tips to help you choose:
Measure your available space and compare it with the dimensions of the sideboard buffet. Make sure that there is enough clearance around the piece for easy access and movement.

Consider the storage capacity and functionality of the sideboard buffet. Think about what items you want to store and how you want to organize them. Look for features such as shelves, cabinets, drawers, or baskets that suit your needs.

Choose a style and finish that matches your existing decor and personal taste. You can opt for a simple and sleek design or a more ornate and elaborate one. You can also choose from different materials such as wood, metal, glass, or rattan.

Shop around and compare prices and quality. You can browse online or visit local stores to see the options available. You can also read customer reviews and ratings to get an idea of the performance and durability of the sideboard buffet.
Some Examples of Sideboard Buffets
To give you some inspiration, here are some examples of sideboard buffets that you can find online or in stores:
The Mirrored Sideboard - Elevate your decor with our sleek narrow mirrored sideboard. Embrace elegance and practicality in one exquisite piece. Ideal for any room, it's your secret weapon for storage and style. Don't miss out—transform your home today.
The Brambles Country Cottage Sideboard Natural - Discover the allure of our narrow mahogany sideboard, a classic addition to your home. Crafted with traditional charm, it's both beautiful and functional. Level up your space with enduring style. Make it yours and relish the timeless beauty.
The Kioloa Console - Our white wooden console table is the epitome of chic minimalism. Spruce up your space with its sleek design and versatile charm. Perfect for small spaces, it's the ultimate blend of style and functionality. Transform your home today with this essential addition.
Conclusion
Sideboard buffets are great solutions for maximizing storage in small spaces. They can fit in narrow areas, store various items, display decor items, add character, and enhance the flow of your space. When choosing a narrow sideboard buffet, you should measure your space, consider the storage capacity and functionality, choose a style and finish, and shop around for the best deal. With these tips in mind, you can find the perfect narrow sideboard buffet for your space.
---
Leave a comment