Reasons to Relax on a Roll-Arm Sofa
Author: Yanic Simard Date Posted:13 June 2016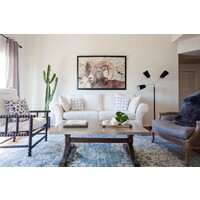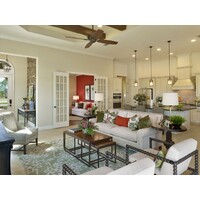 Perfect with decor style from traditional to beachy, the roll-arm sofa lends its character and charm to accent any scheme
Roll-arm sofas are a timeless design, but also a recently emerging trend. This versatile furniture piece is able to integrate seamlessly into a home of nearly any style, adding both gentle beauty and a truly comfortable place to sit (or lie) down. Read on to learn the many ways a roll-arm sofa can fit effortlessly into your dream decor, whether your taste runs traditional, contemporary or in between.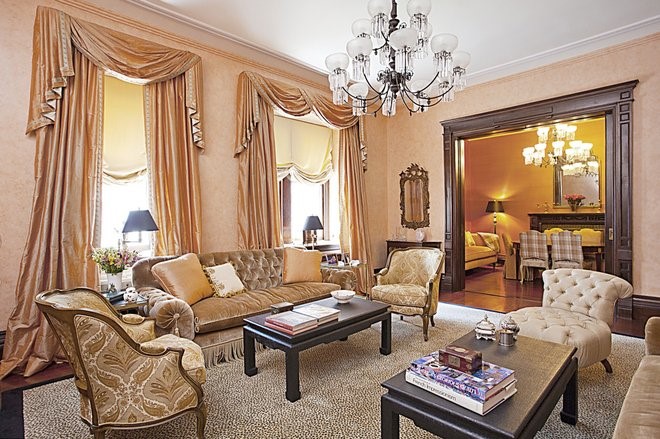 Classic roll-arm sofas may call to mind highly traditional spaces, and it's true that their softly elegant lines suit traditional decor quite well. However, this humble piece is actually quite versatile and, as you'll see, can look spectacular even without all the historical accoutrements.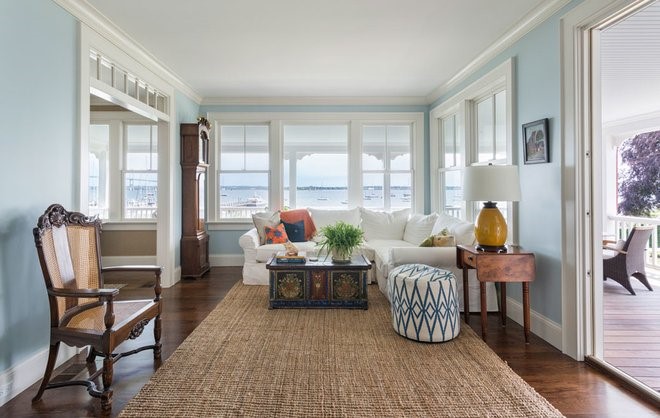 This eclectic, beachy room proves that the gentle curves of a roll-arm sofa can feel fresh and totally modern, especially in a clean, white fabric set against a contemporary wall hue like this breezy blue.

The shapely form mixes well with anything from exotic accents like the cocktail table to vintage or heirloom furnishings like the grandfather clock, and it serves as an excellent anchor to colourful or textural accents like playful pillows or a natural-fibre rug.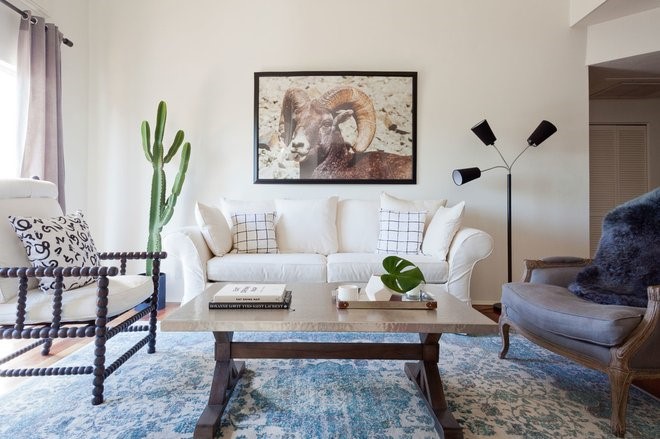 Roll-arm sofas are great candidates for slipcovers. The gentle pulls in the fabric here add a sense of life that feels put-together instead of messy, and the fact that the cover can be removed or replaced means the sofa can stay looking pristine.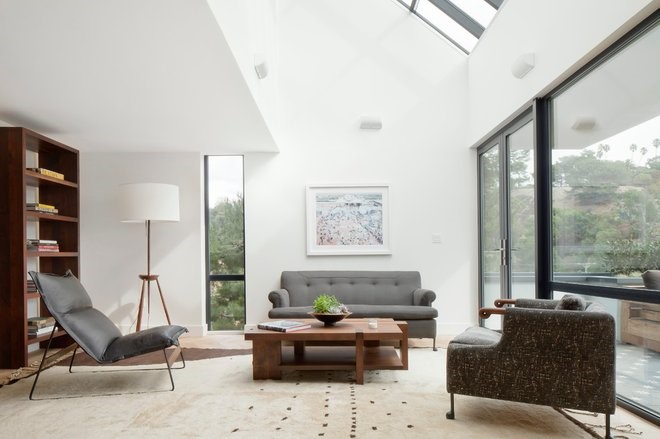 Not that a roll-arm sofa has to be casual: the same silhouette can be tightened to a more formal (but still friendly) form, like the one front and centre in this mid-century-style home. In a demure grey, the gentle rolls still suit the clean-lined look we expect in a modernist home, but with a subtle sense of sophistication. With a little button tufting across the back, a sofa like this doesn't need any throw cushions at all to look polished.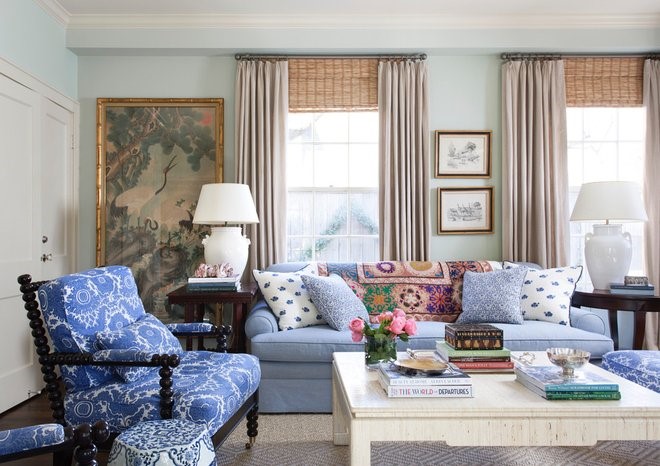 A sky-blue fabric makes this sofa pop while still being neutral enough to mix with plenty of other colours. The solid hue and simple shape of the sofa act as a visual break to the many patterned fabrics and contrasting materials, without standing out as too aggressively modern. It's actually pretty much a foolproof sofa silhouette for any style.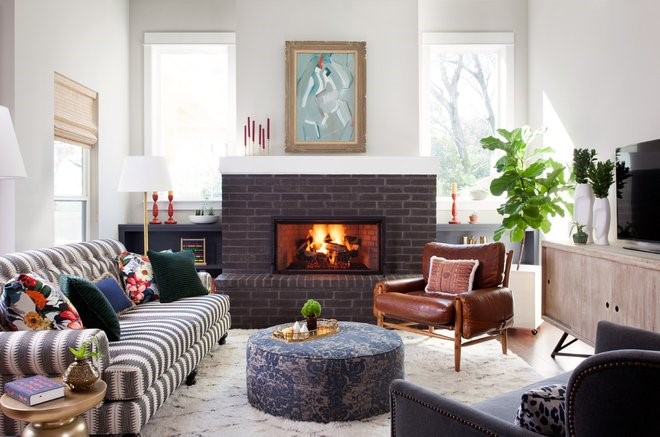 Any sofa can be bold and beautiful in a contemporary pattern like this stripe (or another fun geometric), but the particular shape of a roll-arm sofa helps soften the edges of a bold print, making it feel liveable instead of purely dramatic. This sofa calls out to be sunk into, not just admired from afar (although you'll want to do that too).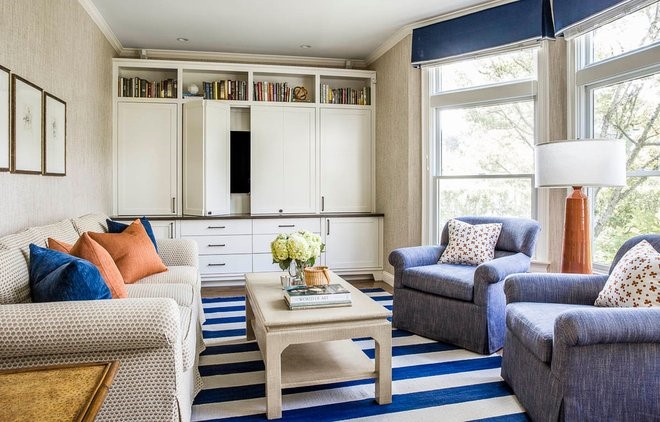 Nautical-inspired style is always classic, and the timeless nature of a roll-arm sofa fits in perfectly, especially in a subtle print that almost reads as a texture. Add hits of navy, lighter blues and an accent of red or coral (plus an essential nautical stripe), and you've got a perfect look for home or the cottage.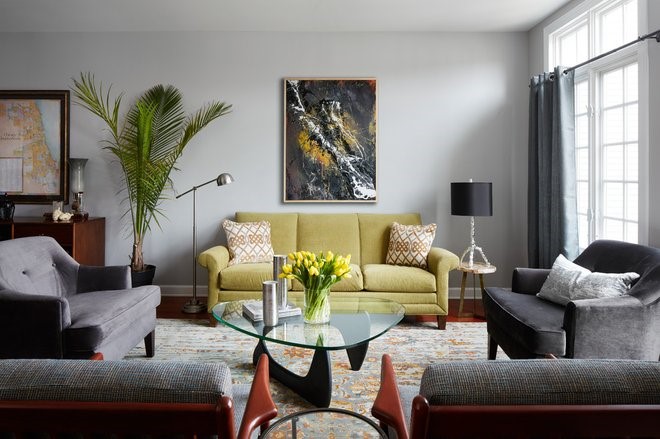 For a more daring colour palette, try a retro-inspired hue like this yellow-green, or browse vintage shops for a true mid-century find that you can give a second life, mixing it easily with furnishings from other periods. Grey fabrics are a safe bet to pair with any bolder hue if you aren't confident in your colour-mixing abilities.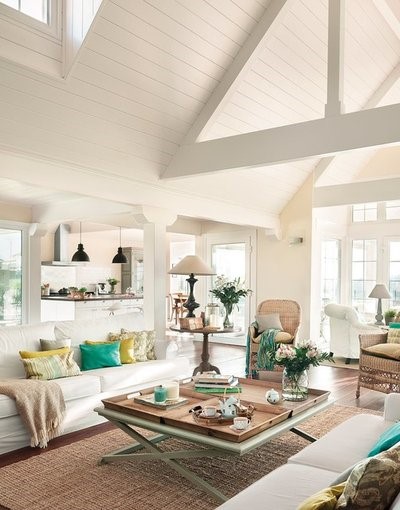 A roll-arm sofa works beautifully with indoor-outdoor woven seats, natural textures like jute and linen, and leafy accent colours to create a cottage-inspired palette that feels like summer all year round. Casually toss on cushions, drape a blanket, and enjoy the way this style of sofa looks put-together without much effort.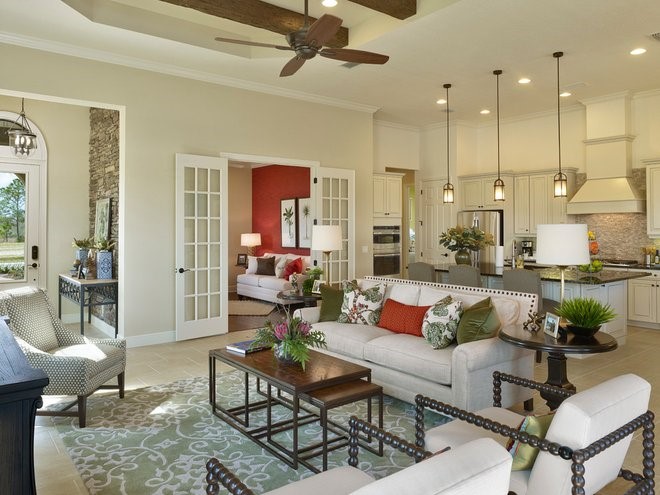 One beautiful way to work with a roll-arm sofa is to pick up the simple circular shape in other pieces, such as the wooden arms of the two chairs seen here (as well as the two side tables and the nailhead accent on the sofa itself). The circles balance the crisp rectangular lines elsewhere in the room (such as the nesting tables), and the sofa ties it all together.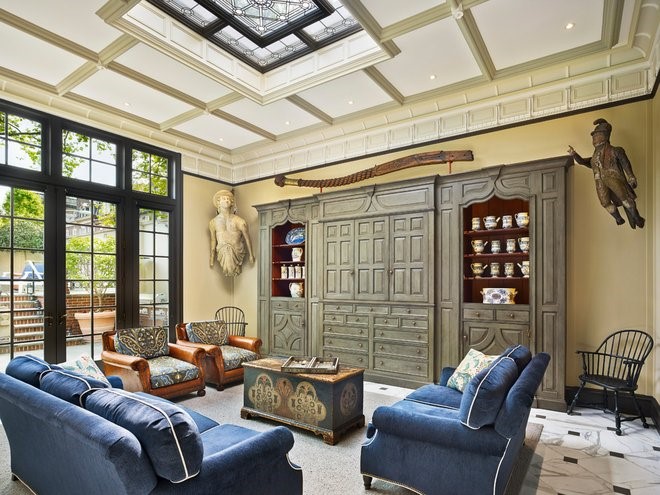 Another, more traditional take is to use piping to add a little heritage character to the sofa while also highlighting its curves. These piped sofas are big, plump and ready for an afternoon of comfortable reading, while looking completely cosmopolitan.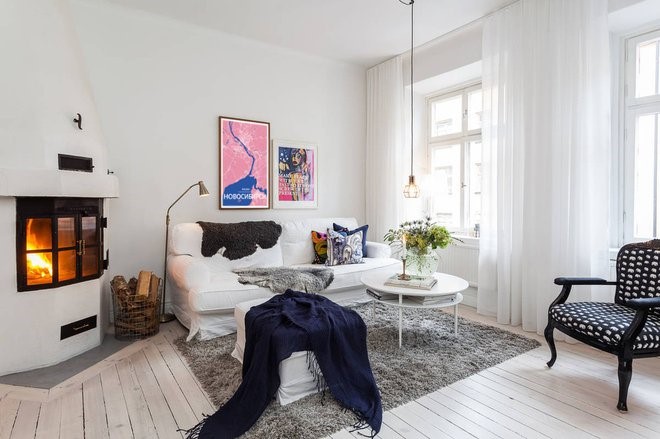 Ultimately, there are lots of reasons to love a classic roll-arm sofa, but one of the best is the way it can look beautiful without much effort. Simply mix in your favourite accents and let this casual classic do its job, giving you a perfectly stylish place to kick up your feet.


TELL US
What's your preferred sofa style, and how does it fit in with your decor? Let us know in the Comments below.
<div id="hzroot6480109" style="width:300px;text-align:center;font-size:12px;padding:0;border:0;margin:0;"><div style="font-size:14px;margin-bottom:3px;"><a href="https://www.houzz.com.au/magazine/reasons-to-relax-on-a-roll-arm-sofa-stsetivw-vs~67071553" target="_blank">Reasons to Relax on a Roll-Arm Sofa</a></div><div style="padding:0;margin:0;border:0;margin-bottom:3px;"><iframe data-hzvt="MjAxOTEwMjE6NDA5OTp2aWV3R2FsbGVyeQ==" name="HouzzWidget1255726" id="HouzzWidget1255726" border=0 frameborder="0" SCROLLING=NO style="border:0 none;width:300px;height:275px;" src="https://www.houzz.com.au/jsGalleryWidget/gallery/67071553//new_window=yes/title_on=yes/width=300"></iframe></div></div>
---
Leave a comment