10 Refreshing Living Room Updates to Try This Summer
Author: Nelly Reffet Date Posted:2 January 2017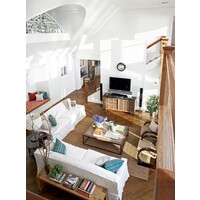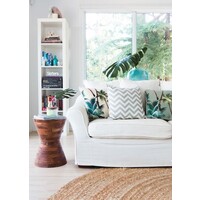 These simple updates will get your living room ready for summer in no time.
The temperature is rising, plants are blooming, birds are singing, and the flesh versus clothing ratio is significantly changing, and not in favour of the latter… You guessed it, summer is well and truly on its way! That means now is the perfect time to update your home so you can embrace a summery look that will make you feel as if you are on holidays. Have a go with these simple ideas.
1. Bring the outdoors in
Summer usually means more time spent outdoors, but you don't actually have to leave your home to enjoy the mellow vibe that comes with being outside.

For those of us who are not blessed with a proper outdoor area, using outdoor furniture inside is a great way to bring that laid-back, resort-like look into your home. Think cane furniture upholstered in thick canvas, Acapulco chairs, ceramic stools, etc.
2. Embrace natural fibres
During the summer, we feel more in tune with our senses than ever. By spending more time outside, and by dressing more lightly, we tend to be more receptive to what's around us, and our sense of touch, in particular, is more solicited. Switch to summer mode by adding textures to your home, by means of natural fibres. It might be in the shape of a sisal rug, slightly rough under feet, a few wicker baskets that remind you of picnics in the park, or banana leaves woven stools that give a tropical feel…
3. Go with a little rusticity
Life in summer is not perfect – walking without shoes toughen the soles of our feet; the sun kisses our skin (sometimes a little too much!); and our hair can take a lighter colour. It's all part of this beautiful season! Just like you, let your home be imperfect by adding some rusticity to it!

Floated wood, whitewashed timber panels or furniture, a crackled leather ottoman would all work very well in both eclectic homes and contemporary ones.
4. Simplify your colour palette
Take your colour palette back to basics. Opt for two colours at max, and layer them very gently, keeping one as a main base, and the other as an accent. Cool colours mixed with light neutrals immediately give a fresh, almost breezy feel to a home. Make sure to add texture, as mentioned previously, to keep your room interesting.
5. Swap your soft furnishings
Hot days call for crisp linen and an abundance of natural light. To give an immediate summery feel to your home, pull up your blinds, remove your heavy curtains to let light flood in, pack away throws, wool, velvet, chenille or silk cushions, and replace them with fabrics that are more summery, such as cotton, and linen.
6. Be cheery
It might seem a little contradictory to point 4 (Simplify your colour palette), but if you don't want a look that is too neutral and cool, go bold! Cheerful tropical hues, such as yellow, aqua, deep green and coral give instant holiday factor to any home. You might want to balance them out with white or light grey/brown to avoid colour overload.
Read more:
Is Colour Setting the Right Tone in Your Home?
7. Make room for a 'siesta'
There is no better time of year than summer to unwind and recharge. What else is there to do on those long, hot days than chill out where it's cool and comfortable? Turn your living room into a peaceful sanctuary where it will be impossible to resist the temptation of a little nap. Hang a hammock, add a daybed, or just add some large, plush cushions to your couch. If it looks relaxing, it probably will be!
8. Incorporate white fabrics
There is something magical about white. Not only does it adds instant crispness to an interior, it also seems to bounce light around and make any colour and texture come to life. White is humble, simple, serene and timeless … just like our summers! The quickest and most effective way to bring white into your decor, without painting, is to incorporate white fabrics. Aim for big pieces for a stronger impact, such as white slipcovers on your sofas.
Long white curtains or sheers also bring light and softness, along with a sense of airiness to your living room. They can be used as window treatments, of course, but also to create partitions in an open plan configuration or between indoors and outdoors areas.
9. Add a splash of greenery
Indoor plants are very much on trend at the moment, and for all the right reasons. Although they are beneficial to your decor (and to the quality of your air) all year round, they are particularly appropriate to summer decoration. Exotic looking plants with large leaves or unique flowers, such as birds-of-paradise, banana trees, umbrella trees and palms, are all quintessentially summery and add lush greenery with minimal effort. Before you go and buy a plant though, make sure that the variety you pick is suitable for the light conditions of your room.
If you are a black thumb or have pets that will like plants a little too much, you can still benefit from the beauty of greens through cushions, artwork or even wallpaper. Large, graphic leafy patterns are particularly recommended for a tropical flavour.
10. Have a change of scenery
If exotic escapes, beach time or country retreats are just a dream for you this summer, don't despair – you can still ignite that holiday feeling in your home through artwork! I admit, it is not quite the same, but still, looking at at a landscape of white sand, crystal clear water and an army of happy people in their swimmers is definitely more enjoyable when sipping a cocktail or two than facing a plain, uninspiring wall.


TELL US
Are you a seasonal decorator? Have you already made some changes to your living room in preparation for summer?
<div id="hzroot4311522" style="width:300px;text-align:center;font-size:12px;padding:0;border:0;margin:0;"><div style="font-size:14px;margin-bottom:3px;"><a href="https://www.houzz.com.au/magazine/10-refreshing-living-room-updates-to-try-this-summer-stsetivw-vs~34060217" target="_blank">10 Refreshing Living Room Updates to Try This Summer</a></div><div style="padding:0;margin:0;border:0;margin-bottom:3px;"><iframe data-hzvt="MjAxOTEyMDQ6NDEyMTp2aWV3R2FsbGVyeQ==" name="HouzzWidget9547337" id="HouzzWidget9547337" border=0 frameborder="0" SCROLLING=NO style="border:0 none;width:300px;height:275px;" src="https://www.houzz.com.au/jsGalleryWidget/gallery/34060217//new_window=yes/title_on=yes/width=300"></iframe></div></div>
---
Leave a comment